Spiny Thistle (Cirsium setosum)
Spiny Thistle (Cirsium setosum), fam. Asteraceae.
Prefers moist but sunny areas of the forest. Another species which can be seen there is Swamp Thistle (Cirsium palustre), which differs by pronounced radial distribution of the leaves.
The thistle has medicinal (and toxic) properties; however, the chemical composition of this plant has not been studied well. Dry or fresh leaves are steamed and applied on purulent wounds, abscesses, and ulcers. The young leaves juice is used as a wound healing remedy.

Swamp Thistle (Cirsium palustre):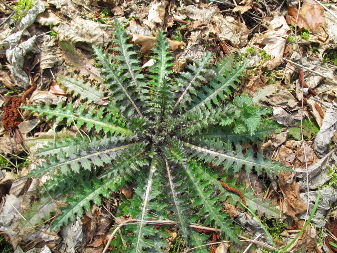 ---